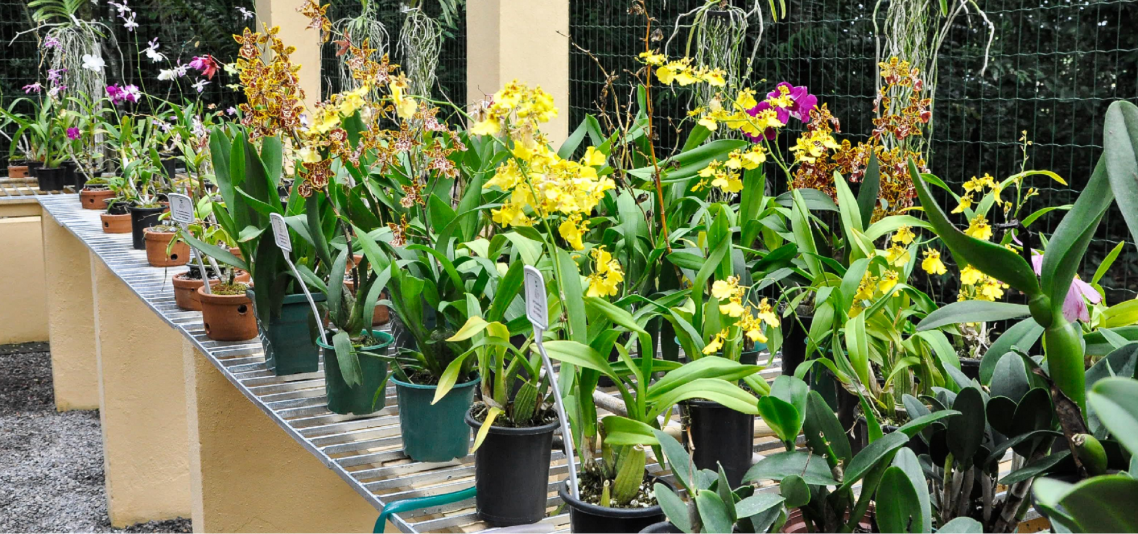 THEMATIC GARDENS
Palms Garden
The palm tree garden gathers the main species of the botanical family Arecaceae, which occurs in the Brazilian forests, brought from other countries. These trees are globally recognized for its majestic form and its great landscape value, being used in the ornamentation of squares, parks, streets and gardens. In their natural environment these palm trees fulfill an important ecological function, serving as shelter and food for many species of wildlife.
Medicinal Plant Garden
It houses more than 40 species of plants traditionally used in the practice of healing, prevention and treatment of diseases. It aims to value the popular knowledge.
Tropical Plant Garden
The garden of tropical plants is an area that stands out for its sweeping landscapes, being intended mainly to moments of contemplation. Gathers showy flowers of rare beauty.
Sensory Garden
This site is designed to provide people with disabilities the discovery of the nuances of plants and their natural environment through smell, touch, sound or a close eye. Therefore, the plants exposed are from different species, providing contact with various textures, flavors and odors. There is also the sound of a small waterfall and the mood of the forest that can be perceived.
SCIENTIFIC COLLECTIONS
Bromeliarium
The bromelia collection houses over 200 specimens catalogued and recorded belonging to the family Bromeliaceae. Among them stands out the species Vriesea limae, exclusive of Pernambuco. These plants are important ecologically because they ensure food for wildlife, favor the formation of micro-habitat and increases the availability of water through a central container surrounded by its leaves. The species also present expressive socioeconomic and ornamental potential, as the pineapple, considered one of the major tropical crops.
Cactarium
The collection brings together scientific species belonging to the family Cactaceae, characterized by its adaptation to extremely hot and arid environments. As main characteristic, the presence of thorns and the ability to retain water. This collection aims to rescue the genetic heritage of these species, considering their ornamental, agroecological, biotechnological and industrial potential.
Orchidarium
It houses a scientific collection of more than 250 specimens of orchids cataloged and registered. Among them, there is the Cattleya labiata, endangered. These flowers, as well as being famous for its beauty, play an important ecological role to attract pollinating insects and birds.
TRAILS
The trails are part of the guided tour of the Recife Botanical Garden and are held from Tuesday to Friday, two groups in the morning and one in the afternoon, by appointment by telephone at 3355-0000 and 3355-0002. During the rainy season, there is often the suspension of the track due to the risk of accidents, like falling branches. To make the trail it must have more than 10 years, be wearing long pants and closed shoes. On the trail visitors experience the feeling of walking in the Atlantic Forest, which includes temperature, sounds and smells characteristic.